National Academy of Sciences of Ukraine
National Science Center "Kharkov Institute of Physics and Technology"
Akhiezer Institute for Theoretical Physics of NSC KIPT
Karazin Kharkov National University
---
Social Program
Monday, August 29: Welcome Party and Visit to the Kharkov National University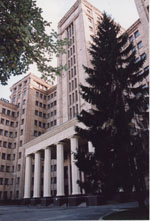 Karazin Kharkov National University is one of the oldest universities in Eastern Europe. It was founded in November 1804, on the initiative of the prominent educator V.N. Karazin and in accordance with the charter of Tsar Alexander I.
The University gave a powerful impetus to the emergence of Kharkov as a major scientific and cultural center and an academic hub of Ukraine. Today the University justly rates among the best Ukrainian classical universities and is known in many countries.
Kharkov University is the only university in Ukraine that has trained and employed three Nobel Prize laureates: the biologist I. Mechnikov, the economist S. Kuznets, and the physicist L. Landau.
More information is available at: http://www.univer.kharkov.ua/
Wednesday, August 31: A film about Alexander I. Akhiezer, founder of the Akhiezer Institute for Theoretical Physics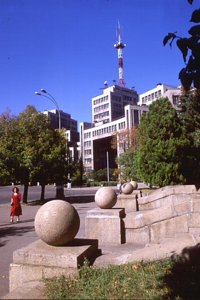 Kharkov (Ukrainian Kharkiv) is a city and administrative centre in the northeastern of Ukraine. It was founded 1654 as a military stronghold to protect Russia's southern borderlands.
Today Kharkov is the second largest city in Ukraine. Its industrial structure is headed by engineering.
The city is one of the most important cultural and educational centres of Ukraine. Besides the university there are numerous other scientific-research and higher education institutions.
Kharkov has a philharmonic hall, several theatres, a planetarium, and a number of museums. Pop. (est.) 1,500,000.
More information is available at the site of Kharkov City Administration and at http://www.kharkov.ua/index-e.phtml
Thursday, September 1: Conference Dinner and a Concert
The Conference Dinner (€20 per person) will take place at the rest center "Solnechny".
Saturday, September 3: Excursion to Svyatogorsk Lavra Monastery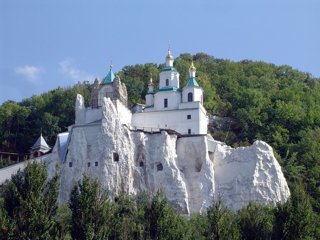 The Sviatogorsk Lavra or the Sviatogorsk Cave Monastery is a historic Orthodox Christian monastery near the city of Sviatogorsk in Donetsk region of eastern Ukraine (about 150 km from Kharkov).
The lavra is located on the right bank of the Seversky Donets River. The name comes from the hill on which it sits — Svyatogorsk or Holy Hill.
The first monks to settle the area were in the 14th-15th centuries. Today, this is a place that attracts numerous orthodox worshipers. The monastery community consists of more than 100 people, which increases each year.